Your mom loved them back in the 80s and now it's your turn. From fuzzy sweaters to statement shades and from mom jeans to chunky chains, the funky fashions of the previous eras are coming back in style. Next, let's take a look at the top 10 retro trends that are rocking the fashion world in 2020.
1. Chokers
myshopify.com
They were big in the 90s and they're even bigger now. Chokers have been on top of the fashion game for a few years now – but in 2020, they're more dazzling than ever. While the 90s were full of plastic creations, this year make sure to glam it up with a pearl choker, colored gemstones choker necklaces and all the extra brilliance. For a more bohemian look, go for leather chokers or layer dainty necklaces at different lengths with your choker of choice.
2. Corduroy
12thtribe.com
It defined a big part of the 70s and now it's back in the game – we're talking about corduroy, the cord-like textile that was highly popular in the disco era. You can already find a large variety of skirts in corduroy on the market, but also caps, pants and jackets in true 70s-inspired fashion. Pair it up with denim for a look that's retro-enthused, yet modern at the same time.
3. Mom Jeans
pacsun.com
They're comfy, they're versatile and now, they're also in style. Mom jeans have never been chic – until now. 2020 brings with the largest arsenal of mom jeans, aka high-waist denims with loose-fitting legs. Slightly tapered at the ankle, mom jeans look best when rolled up and rocked with flat sandals, mules or moccasins. Ditch the uncomfortable skinnies for mom jeans that are not only more comfortable, but also right on trend.
4. Rimless Colored Shades
aliurl.cn
Classic aviators might be timeless and feminine cat eyes might be ultra-chic, but this year brings back yet another one of the funkiest fashions of the previous eras. Meet colored rimless shades – the 90s staple that used to be everywhere, from fashion magazines to the high-street. This year, rock the boldly colored sunnies with your beach getup for a look that screams summer vibes.
5. Fuzzy Sweaters
hm.com
They were cool in the 70s and they're cool now. Fuzzy sweaters are definitely not grandma's choice anymore – they're a fashionista favorite. This year, you'll find fuzzy sweaters everywhere, with the cropped kind being particularly fashionable. Pair them up with high-waisted bottoms and platforms for a look that's retro-inspired yet current and chic. Also in style: high-neck fuzzies that are lightweight, yet warm and perfect for fall.
6. Chunky Hip Hop Necklaces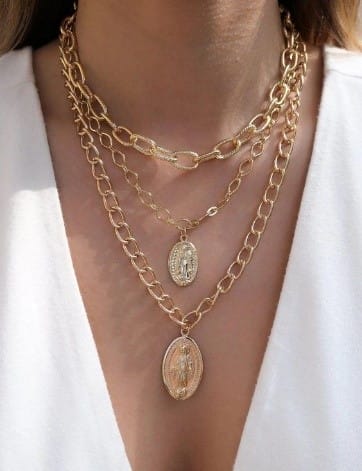 thewomenjewelry.club
When it comes to accessories, 2020 is all about statement bling. While minimalism might have topped the charts in 2018, this year is all about large, oversize jewelry that makes an impact – and when said pieces come with a retro twist, even better. This summer, grab your 90s-gone-modern hip hop necklaces featuring supersize chunky chains. The preferred finish: shimmery gold!
7. Scrunchies
lulus.com
While fashionista Carrie Bradshaw bashed them ruthlessly in Sex and the City in the early 2000s, they managed to prove their chicness. We're talking about scrunchies – the large, velvety or satiny kind. Back in full force, scrunchies are a notorious 80s staple. Our guess: they're here to stay for a long time – after all, they are far better and more gentle to your hair than your basic hair ties. Whether you opt for a half-updo or a classic pony, you simply can't go wrong this summer when rocking a scrunchie.
8. Cargo Pants
redirect.viglink.com
They take comfort to the next level and they're not an eyesore anymore. Cargo pants have been popping everywhere in the recent months – and luckily, they have been reinvented and gained a new level of chicness. Pair them up with boots for fall or with sneakers for summer and crop tops or half-tucked tees. Stick to the classic colors ranging from khaki to army green for that authentic touch or go bold in vibrant hues for a more feminine alternative to this retro classic.
9. Disco Fever Tie-Up Shirts
us.shein.com
You'll want to hit the dancefloor and show the world your moves when wearing one of these tops reminiscent of the groovy disco era. The tie-up shirts are back and they're flouncier than ever. Half seductive, half hippie-inspired, the disco fever shirts come with bell or flared sleeves, low V-necklines and a lot of groove. Pair them up with high-rise denims for a look that merges retro flair with timeless appeal.
10. Chunky Sneakers
urbanoutfitters.com
Some might call them 'the ugly sneakers' or 'the dad sneakers' but fact is, chunky sports shoes are experiencing a major moment in fashion. Love them or hate them, this retro trend is back and here to stay. The pros: they're comfy and they make you instantly taller, so give the chunky sneakers a chance and pair them up with sundresses and rompers for a look that's summery & effortlessly chic at the same time.
Related Categories:
Fashion & Gear
,
Reviews