CBD oil is sweeping the nation, with 11% of people claiming to have already tried it. 
Derived from the cannabis plant, CBD oil contains cannabidiol (CBD) and other hemp compounds, minus the THC responsible for the 'high' many people associate with cannabis. 
Fans claim that the oil is a natural, organic way to improve your wellbeing. However, regulation has struggled to keep up with the booming popularity of the industry, so many CBD brands are getting away with cutting corners. 
With that in mind, how can you be sure that you're buying a safe, effective CBD oil? 
Leading UK-based CBD retailer CBD Shopy researched hundreds of British and European CBD oil brands to find the best of the best. When selecting their products (like flawless CBD), they looked at the following criteria. 
Hemp quality. 
Quality hemp means quality CBD oil. The best hemp is grown organically in a regulated jurisdiction, free from chemical pesticides, fertilisers and herbicides. 
Extraction method. 
Unlike other extraction methods that can alter or damage the plant, CO2 extraction uses low temperature and pressure to preserve the hemp's natural compounds. 
Independent lab reports. 
Reputable brands have their products tested by an independent third party to verify CBD content, purity and quality, and they make the lab reports readily available to their customers. 
Customer feedback.
CBD Shopy looks at customer feedback across many platforms, emphasising brands with great customer service and high customer satisfaction.
Price per mg. 
CBD oil prices vary dramatically, but there's no ethical way to create a truly effective, high-quality CBD product on the cheap. CBD Shopy takes this into consideration, exercising caution with particularly cheap brands.  
Manufacturing standards. 
International certifications like GMP and ISO show that a product is manufactured in a high-quality facility and meets rigorous, industry-leading standards. 
Trade group affiliation. 
Voluntary affiliation with a trade group like the Cannabis Trades Association UK (CTAUK) demonstrates that the brand values legal compliance, accountability, transparency and overall good practice. 
That's a lot to consider! Thankfully CBD Shopy have done all the hard work for you, with every single CBD oil listed for sale under their CBD Oil UK category exceeding the criteria above. 
Spoilt for choice? Here are CBD Shopy's top three picks…
None of the brands featured has paid to be on this list.
CBD Life Hemp Oil CBD/CBDa Spray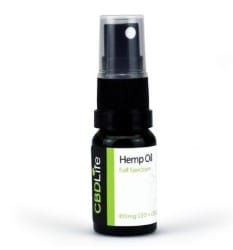 Top of the list and ticking all the boxes is CBD Life Hemp Oil. 
Made with multiple strains of organic hemp and fast-absorbing MCT oil, this full spectrum CBD oil is rich in omega 3, omega 6 and vitamin E. The handy spray form gives you maximum control over your dosage, while the range of flavours offers a perfect alternative for people who don't like the earthy taste of hemp. 
CBD Life has spent years refining and perfecting their unique CO2 extraction process to preserve the hemp's healthful compounds and deliver fantastic purity. However, it's the above-and-beyond commitment to quality that really sets CBD Life apart.
As founding members of CTAUK, CBD Life is leading the effort to elevate industry standards. In addition to rigorous third-party testing, the Sunderland-based brand makes regular quality assurance visits to the German farm that grows the hemp. If quality is your priority, you can't get better than this!
Cibdol CBD Oil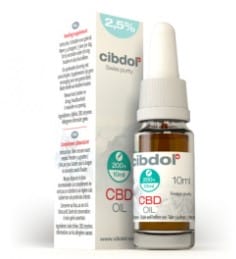 Cibdol has more than earned their 5-star TrustPilot rating with this multi-strain, full spectrum CBD oil. Prioritising purity and transparency, the Swiss company believes that you should be 100% confident that you're getting the purest CBD product possible. That ethos is reflected at every step of the manufacturing process, from seed to shelf. 
The organic hemp strains are selectively bred to give an ultra-high CBD content. The hemp is grown without pesticides, fungicides, herbicides, or chemical fertilisers, and the soil is regularly tested for rogue contaminants. Once harvested, every single batch is third-party tested to guarantee purity. 
Cibdol's hemp is processed in an ISO-graded lab. They use CO2 extraction and a proprietary filtration process to remove all waxes, fats and chlorophyll, before blending the CBD oil with organic olive oil. 
The result of Cibdol's efforts is a CBD oil that delivers unrivalled purity, but they don't expect you to take their word for it! They work closely with the CANNA Foundation to promote research, accountability and transparency in the industry. Practicing what they preach, they also make third-party lab reports and manufacturing information readily available to customers online — a strong sign of a trustworthy brand. 
Love CBD Entourage Oil Spray 
Rounding out CBD Shopy's top three CBD oils is Love CBD'S Entourage Oil Spray. 
We could tell you that the Entourage Oil Spray is organic, vegan and lactose-free, or that it's grown without artificial pesticides, fertilisers, herbicides and the like. We could even talk about the regular third-party lab testing that this CTAUK founding member conducts to guarantee a quality product. 
These are all must-haves in a top CBD brand, but what really makes Love CBD shine is the sheer effort, ingenuity and creativity they put into developing their products. 
CBD is just one of 500 compounds in the hemp plant, and unlike other types of oil, full spectrum products like this one contain them all. Together, they're believed to amplify each other, boosting the overall effects of the oil. This is known as the 'entourage effect', hence the name of Love CBD's signature spray. 
The company spent an impressive three years developing the most powerful combination of CBD, cannabinoids and other healthful hemp compounds. The resulting five-strain blend hails from various different European climates, creating what Love CBD calls the 'ultimate cannabis cocktail' (no, it won't get you high!).
Is CBD Oil Legal in the UK?
Under UK Law it is legal to sell CBD (Cannabidiol) products so long as the dosage of THC (Tetrahydrocannabinol) is less than 1mg per product. THC is the illegal controlled substance responsible for making you 'high' when smoking cannabis plants.
Related Categories:
CBD
,
Reviews