A Kickstarter Project you can get behind
Murders Incorporated is no stranger to creating easy-to-host murder mystery parties that you can play right at home with your closest friends… well, friends you don't mind "murdering" off, of course! 
Their 1920s theme is a best-seller on Etsy and is the primary inspiration for their newest project – Murder at the Speakeasy. By taking this popular story and creating a professional box kit that has everything you need to host your next party, Murders Inc is sure that you'll throw a party to die for!
The Kickstarter campaign will launch on April 19th, 2022, and run for 30 days. Early backers will receive discounts and there will be multiple levels to back this unique project.
What is Murder at the Speakeasy?
Murder at the Speakeasy is an interactive Murder Mystery Party that you can play at home with friends. With this game, there's no need to go to a theater to watch actors have all of the fun because you and your guests will actually get to be the murder victims and the suspects!
The box comes with everything you need to assign your guests to twenty unique and eccentric characters, "murder" them off throughout the evening, and then have everyone attempt to solve for whodunnit by analyzing realistic evidence left behind after the murders and attempting to learn each other's secrets. 
Guests will have plenty of information about their characters, such as a detailed biography, things they may want to share, secrets they'll certainly want to hide, important relationships, and prop/costume suggestions. You'll be surprised to see how much fun your friends will have getting into their assigned characters! 
This game is perfect for birthdays, themed parties, wedding activities, corporate mixers, holiday parties, game nights, and any other event where you want to mix it up and have guests mingle as corrupt characters from the roaring 20s! 
Game Details
Players: A minimum of 8 and a maximum of 20
Endings: 2 Possible Endings (Silver & Gold) for multiple playthroughs
Genders: Mixed (8 Male, 8 Female, 4 Gender Neutral)
Party Length: Between 1.5-2 Hours but can be flexible
Rating: PG-13 **Please note that this story contains some adult themes including references to "Prescription" Pill use, Affairs, Partying, and (of course) Murder**
What's Included?
Thorough Instructions
Tips & Tricks for Party Hosts
An easy-to-follow timeline (one for each ending)
The Introduction
20 Unique Character Booklets 
2 Sets of Evidence (One for each ending)
2 Conclusions
Action Cards
Voting Cards
A Detective's Notepad to jot down anything suspicious 
Awards for Best Guess, Best Death, and Most in Character
3 Murder Weapons
Stop Throwing Boring Parties!
We've all been to parties that we couldn't wait to leave. Give your friends an evening that they'll never forget, instead!
A Murder Mystery Party is a perfect idea for a fresh party and is certain to leave your guests talking about their characters and the secrets that they've learned for years to come! 
What makes this a Murder Mystery Party to die for?
As the host, you actually get to play! You can choose any character who isn't set to "die" and you can also choose not to read the Conclusion and make your accusations just like everyone else! 
These parties also are not scripted. By giving the guests everything that they need to know about their character (including biographies, things to share, prop suggestions, important relationships, and secrets to hide), they can have fun and just play instead of having their eyes glued to a script!
Murders Inc also loves for everyone to be involved as much as possible, this means that there are three murder victims instead of just one! Each guest will be able to dramatically act out their own death and, once they do die, they will become a ghost and still be able to talk and play. 
The story will ultimately be pieced together by trying to learn each other's secrets, as well as studying the evidence for any clues to find a connection.
A Sampling from the Introduction
Welcome to all of our lovely guests. The year is 1920, we are two years past the end of the brutal World War, and people finally feel free to live their lives again. Prohibition takes over the United States, leaving the hangovers to the creative. Rebellion is brought out among the people, creating a love of jazz music, flappers, and dancing. Organized crime runs rampant, and the Mafia is on the rise. The streets are filled with moonshine, bootleggers, gangsters, and, dare I say it, murder.
Welcome to the Speakeasy, which is, of course, owned by the most feared gangster in town, Marilyn Moretti. We were all chosen to be here for a reason, and we should act as her honored guests. While most of you are among the rich and the famous, there are quite a few who dabble among the conniving and the desperate. There are rich histories to be learned and scandalous secrets to be discovered. We had high hopes that tonight would go off without a hitch, but, given the morally ambiguous nature of our guest list, we understand why that simply could not be the case. 
With that being said, at the end of the night, three of you will be dead. 
Master Character List
Primary: 
Mae "Vixen" Smith – The Conwoman • Female

Maxwell Langley – The Billionaire • Male

Mazie Langley – The Gold Digger • Female

Marilyn Moretti – The Gangster • Female

Bo Hancock – The Pilot • Male

Eugenio Beasley – The Professor • Male

Cameron Powers – The Detective • Gender Neutral

Ash Newberry – The Plastic Surgeon • Gender Neutral
Secondary: 
Robbie Montague – The Chef • Male

Cecelia McKenzie – The Aspiring Actress • Female

Delpha Hanna – The Socialite • Female

Rufus Gray – The Vagabond • Male

Evangelina Lavine – The Model • Female

Sheldon Shultz – The Photographer • Male

Georgetta O'Shea – The Debonair Artist • Female

Dante McGregor – The Bootlegger • Male

Danika Wadsworth – The Black Widow • Female

Marcello Luciano – The Illegal Bookie • Male

Lee Wilcox – The Mad Scientist • Gender Neutral

Kennedy Hastings – The Journalist • Gender Neutral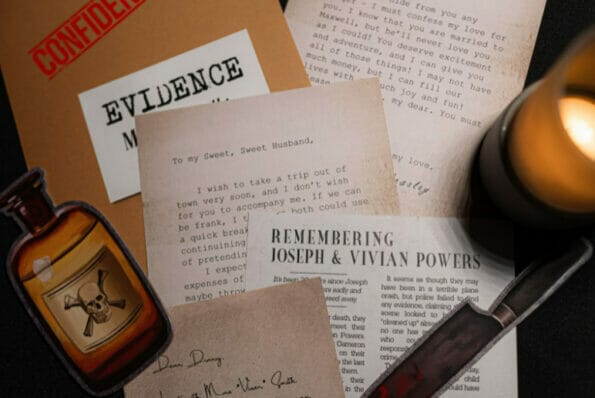 Frequently Asked Questions: 
Can the Host play? 
Yes! As the host, you can choose any character who isn't set to "die", you can also choose not to read the conclusion until the very end.
Can we play this over dinner? 
While this can certainly be played over dinner, you'll also want to make sure that guests have room to mix, mingle, and talk to each other! One of the murders is poisoning so it's fun to have that specific murder take place over dinner and then have the rest of the party while mingling!
Are there extra resources? 
Yes! Murders Inc will be releasing plenty of extras on their website to supplement the party. They're currently working on creating video walkthroughs, party posters, name tags, invitations, and more!
What if I don't have 20 guests exactly? 
That's perfectly fine! This party will work perfectly with anywhere between 8-20 guests due to the use of Primary and Secondary Characters. 
Primary Characters are essential to the storyline, they may be the murderer, a murder victim, or misdirect and are needed for gameplay. Secondary Characters still have a fun, detailed, and involved role to play but are nonessential to the storyline. This way, if the character cannot be in play, there's no harm no foul! 
Secondary characters are also not aware that they're secondary so that way, no one feels left out!
How does this differ from what Murders Inc currently sells? 
Murders Inc currently sells immediately downloadable PDFs which you can print at home or handmade box kits. This new Kickstarter Campain will finally create a professional box that resembles a board game and comes with everything you need, already printed, for a much lower price point than a handmade box kit.
What are the risks with Kickstarter? 
Kickstarter is a crowdfunding site where people who believe in a project can back it before it's created to help fund the project getting produced. If this project is not funded, the money will be returned to any backers and you will not receive the product, if the project is funded, then you will receive your murder mystery party to die for!
How long will it take to receive my copy of Murder at the Speakeasy?
The Kickstarter is projected to launch on April 19th, 2022, and run for 30 days. Once funded, it will take around 30 days to place the finishing touches on everything and an additional 45-60 days to get the units delivered from the manufacturer. We are hoping for delivery to our customers between August and September of 2022. 
Will there be specials?
Yes! During the first three days of the Kickstarter launch, there will be an early-bird special of $10 off (what a killer deal!). The Kickstart is also planning on selling the games for cheaper than when they hit big-box retailers so, by snagging one now, you'll be locking in a lower price. 
Author Bio
This article was written by Chelsea Opfer, Owner, and Creator of Murders Incorporated. Chelsea began Murders Incorporated with the help of her husband Dan in 2018 after wanting to throw a fun Halloween party for their friends. The party was a hit and a few of those friends suggested that she started writing parties for the public and selling them. 4 years, 8 different themes, 40 variations, and over 8,000 parties sold later, she's very grateful that she listened to them.
Chelsea was able to walk away from her corporate job in 2020 and now spends her time expanding Murders Incorporated. She's passionate about helping fellow entrepreneurs and everything Halloween-related. She's excited for new projects and adventures in the future.
Source Notes
www.etsy.com/shop/murdersincorporated
https://www.kickstarter.com/projects/murdersinc/murder-at-the-speakeasy-a-1920s-murder-mystery-party
https://incrediblethings.com/entertainment/fresh-party-ideas-for-2022/
Related Categories:
Games
,
Reviews