A customer loyalty program has many faces, and a reward points system is one of them. It allows brands to show appreciation to their customers by rewarding a specific set of their activities. Such activities can include writing a review, completing a purchase, referring a friend, or just having a Birthday, to name a few.
The point reward system aims to boost the engagement of your site visitors and turn one-time shoppers into returning customers. Additionally, loyalty points help establish a more loyal relationship with consumers and encourage them to perform specific activities.
As being a complex process, such a system requires fine-tuning to meet the goals of a specific business. To help you succeed, this article shares insights on how to configure the Reward Points system for Magento 2.
Let's slice and dice it.
Why Integrate Reward Points in Magento 2?
Whatever you add to your eCommerce store should have a numbers-based reason behind it. Below, we list five convincing arguments in favor of implementing such a system into your store.
A reward points system influences the following metrics of customer interaction with any company:
Shopping Experience
Gone are the days when users came to a site and shopped no matter what its design and UX were.
Intuitive site navigation and eye-candy design are what each and every e-store must come with out-of-the-box. No shopper will spend minutes finding a search bar no matter how well-designed your site is.
A compelling loyalty system not only helps you build a joyful shopping experience but get your consumers' activities incentivized and fostered complementarily.
Points that consumers receive get transformed into discounts and conveniently used to reduce the amount they'd need to spend at the checkout stage.
Customer Loyalty
It takes a lot of effort to acquire new customers. It has become a must for companies to establish a loyal and long-lasting relationship with their consumers as these shoppers do repeat purchases with your brand.
Here's the deal:
Loyal customers are the most valuable personas you should focus on.
According to Forbes, a 5% increase in retention rates can increase profits by 25% to 95%. 
Investing in loyal customers must be a strategic move for companies that want to make their brands sticky.
That's where an accessible reward points system comes into play.
Conversion Rates
There is certainly psychology involved.
Points redemption cushions the discomforting feeling of having to part with the earnings. Customers get virtual points back to their account, i.e., besides spending, they gain twice – a bought item and some awards back to their wallets.
It helps you reduce hesitation behind making a purchase decision and encourage consumers to complete a purchase.
Customer Acquisition
Happy customers are the best brand advocates. By sharing their experience, consumers attract other customers.
Why not reward your loyal shippers for referring other customers to your business? 
It will also help you show appreciation for your customers' opinions and for investing their time in spreading the word about your company.
Brand Awareness
Customer reviews help improve SEO. Social shares and recommendations assist in spreading the word about your business.
These activities can be stimulated with loyalty rewards and significantly pitch in your brand awareness.
Besides, a great deal of online shoppers trusts customer reviews and social feedback as much as their family's or friends' suggestions. With points, you can advertise your business using one of the most sure-fire ways.
What Opportunities Does Default Magento 2 Offer?
Out-of-the-box, reward points is an Adobe Commerce feature only.
Here's the deal:
If your site is built on Magento Open Source, you'll need to opt for a third-party extension to be able to launch, run and manage a compelling points system.
Luckily, the Magento Community has a variety of extensions today. You are likely to find a solution that meets your business needs the best. 
Are you on Adobe Commerce?
Then, you have access to features that let you set up basic functionality. The configurations will include the following settings:
With the default Adobe Commerce functionality, you can offer reward points for:
Making a purchase

Registration

Newsletter signup

Writing a review
To learn more about how to set up rewards in default Adobe Commerce, navigate to the official user guide.
As you can see, the default functionality offers the most basic reward point configuration possibilities and seems to be missing flexibility to meet unique business goals.
How to Set up an Advanced Reward Points System in Magento 2?
While the Magento Community is rich in tools to expand the default functionality, we will use screenshots from the Mageworx's all-in-one solution as an example.
Basically, tweaking such a system in Magento 2 can be divided into three steps:
General configuration of loyalty points

Configuration of points earning

Personalization
Before you begin, you'll need to login to your Magento 2 admin panel.
Step #1. General configurations
This step covers the basic configurations required to get your points system running like clockwork both in the back-end and front-end.
On the left pane, go to STORES and click Configuration.
Normally, that's where all the required general settings are located. It can be either the CUSTOMERS tab or Reward Points.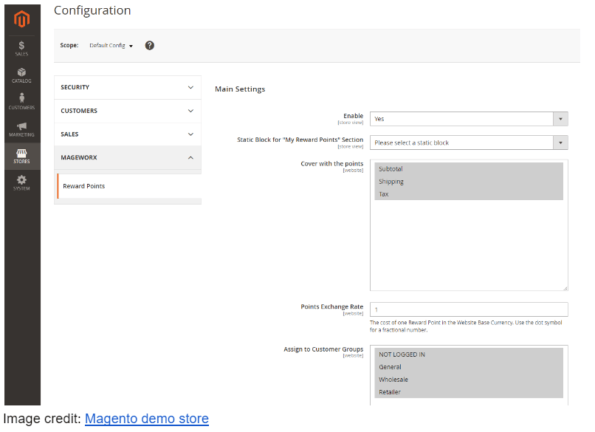 Here, you should be able to:
Add the

My Reward Points

static block and select its location

Choose what you want to allow covering with points (tax, shipping, subtotal)

Set points exchange rate

Assign points to customer groups

Manage points for refunded orders

Add marketing messages to product and category pages, mini-cart, checkout, etc.

Set default email configurations

Configure expiration dates
As you can see, these configurations are not limited to how the points calculator will function in the back-end only. These settings also determine on which pages both reward points and marketing messages will get displayed to your shoppers.
Such functionality can be especially important during your marketing activities. Displaying such notifications to your shopper when the timing and placing are the most relevant will bring the best results.
Step #2. Reward points rules configuration
Rules are what help create distinctive loyalty points systems and thus cater to unique business needs differently. 
The flexibility in the set of rules often depends on an extension's vendor and can slightly vary. For example, you come across the following events:
Places order

Customer Birthday

Customer registration

Customer review

Newsletter subscription
Generally, under the MARKETING tab, Magento 2 store admins get to create and manage the following rules:
The configurations offer the possibility to:
Add rule information.

These settings include configuring rules active period, customer groups, and personal email templates selection.
Choose actions.

Here, you can choose events that trigger rewards points giving and choose how you'd like points to be calculated (fixed or percent). You can give points for a specific amount of money spent or a specific number of items bought. The variety of rules can be different depending on the solution you choose.
For example:
Get X points

Get X points for every Y spent

Get X points for every Y spent starting from Z spent

Get X points for every Y quantity

Get X points for every Y quantity starting from Z quantity
Set up conditions.

Need complex conditions for your loyalty points rules? That's the place where you can set them up.
Add labels.

This should be an optional configuration, but if it's critical for your business to set up different rules for different store views, you'll find it of much use.
Step #3. Manage customer reward points balances
With shoppers seeking even more personalized experiences, we've decided to set this step apart. It is vital to have the flexibility to manage and update reward points balances of specific customers manually.
On the left pane, you'll need to go to the CUSTOMERS tab, and then click All Customers. After you choose to edit a customer of your choice, you are likely to access the Reward Points tab.
There, you can manually add and edit the following details:
Store view

Number of reward points

Points

 Expiration period

Comments for customers
Besides, some vendors let store admins choose to notify customers about changes in their reward points balances. It can be especially useful as a means to regulate customer disputes or keep shoppers informed about your actions.
Additionally, this step provides a quick overview for merchants on all reward points transactions that took place. It helps evaluate how well your system resonates with specific customers, draw conclusions and make the required improvements.
Recap
Customer acquisition costs keep growing every year as more viable players enter this dynamic market. 
With Magento 2 becoming more of a premium-like platform, a comprehensive reward points system can become an ace up your sleeve and help you stay ahead of the curve.
Either with the default or extended features, a loyalty system must be carefully designed and ensure every customer's interaction with it is well-thought-out.
This article shared detailed instructions on what you need to know about launching such a system in Magento 2 to configure it successfully.
Should you have any thoughts or suggestions on this, take a moment to share your insights below.
Image Source: BigStockPhoto.com (Licensed) and the online Magento Open Source demo site distributed under the Open Source Initiative (OSI) license.
Related Categories:
Work
,
Reviews
,
Tech