Networking is something that has become essential for many businesses across a wide number of industries. It provides people with a way to connect with potential clients/customers, partners, vendors, suppliers, manufacturers, and more. In other words, networking can help businesses to be more productive, expand and grow, and get the word out. Knowing that networking is important is only part of the battle though, businesses and individuals also need to know how to do it effectively.
One of the most popular places for networking is none other than the golf course, allowing for a casual and neutral get-together. Here are six tips you can use to ensure your networking skills are up to par when you hit the course.
Don't Pick a Course That Is Too Challenging
Because you want the day to be relaxed and provide you with the opportunity to talk about work, you want to be sure that the golf course isn't too challenging. If it's a particularly tough course then everyone's attention will be on the game itself and nothing else. To top it off, if the contact you are trying to connect with isn't a great golfer – a tough course will only frustrate them.
Make Sure You Show Up on Time
One of the biggest mistakes you can make is to set a date and time and then show up late. You need to be on time, and even a few minutes early to make a good impression.
Keep Things Light and Positive
The mood will need to be professional at all times, but also light. Make sure you don't lose your temper no matter how poorly your game may be going. You need to appear in control, relaxed, and positive at all times. And while you may be used to being competitive when playing with friends, this is not the time to worry about winning.
Engaging in small talk can help to create this kind of mood and atmosphere.
Ask Them Questions and Work on the Rapport
A great way to build a natural rapport with someone is to show an interest in them, this means asking lots of questions and being an active listener. Don't make it all about you and your business, instead, focus on them.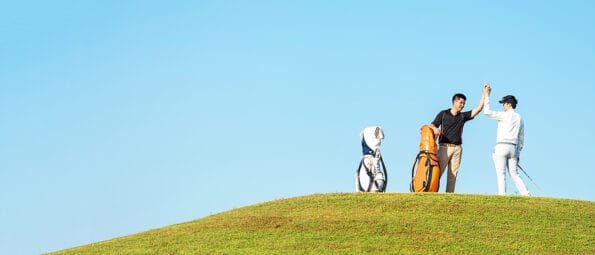 Purchase a Golf Cart to Shuttle Contacts Around the Course
Another great tip is to invest in a golf cart so that you can shuttle your networks around the course in the same vehicle as you. These moments in between shots/holes provide you with an opportunity to strike up a casual conversation or even throw a little shop talk into the mix.
If you already have a golf cart, be sure to give it a thorough inspection and make any repairs and upgrades necessary before taking it out on the course. You can check out options such as this, an online mega-store for golf carts. Having a cart is also a great way to create a professional and positive impression on clients and contacts.
Be Sure to Leave Time for Refreshments at the Clubhouse
And what's the best way to end the golf outing? With refreshments at the clubhouse. Everyone will be relaxed and in a good mood, giving you the perfect opportunity to chat further. One tip, however, is you don't want to drink to get drunk either on the course or at the clubhouse after. That will create the wrong impression.
A Successful Outing with a Potential Contact
Using each of these tips will act as your blueprint to ensure that your networking efforts on the golf course are a huge success.
Image Source: BigStockPhoto.com (Licensed)
Related Categories:
Work
,
Golf
,
Reviews