Christmas is a time for fairy tales and magic. During the Christmas holidays, everyone wants to be surrounded by beautiful things, a variety of toys and lights. Such things exactly create the real magic of the holiday! And, best of all, everyone can create this magic on their own at home.
Christmas decorations, especially during the holiday season and on Christmas eve, are indecently expensive. But this is not a reason to give up a home fairy tale! On websites like rabato.com, you can follow promotions and offers that will help you decorate your home for Christmas at the lowest cost.
Traditional Decor Details
Advent calendar
A period of adventus precedes Catholic Christmas. It starts on the fourth Sunday before Christmas. On this day, it is customary to give Advent calendars to children. This is a smart calendar that shows all the days remaining until Christmas. Moreover, each day is marked not only by a number but also by a separate pocket, box or case where a small gift is placed: coins, sweets, bracelets, small toys, key rings, etc. Only one pocket is allowed to open every day.
Wreaths and baskets
Can you imagine Catholic Christmas without wreaths? They can be different: from large ones that welcome guests at the front door to small ones for windows, walls and a table. You can buy them, but you can also do them yourself.
Modern wreaths are made of fir branches and are decorated with flowers, Christmas balls, fruits, nuts — everything that comes to mind. Fir branches are useful for another decoration — holiday baskets. The basket is filled with fruit, berries, fresh flowers, and its base is a wireframe entwined with coniferous branches.
Santa Claus
He is the main character of the holiday, that both adults and children are waiting for. Good-natured fat man with a beard in a red suit; he rides in a sleigh pulled by deer, with his gnomes assistants.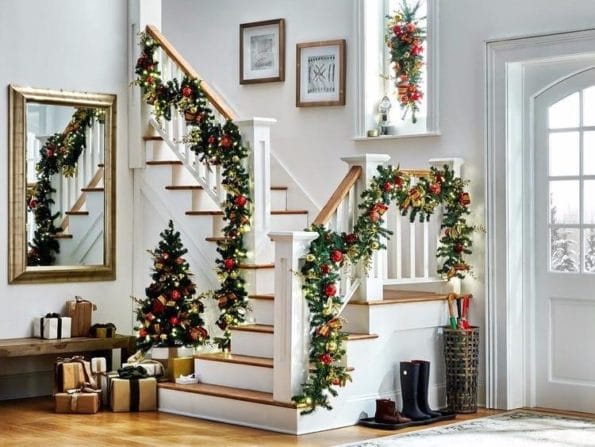 How Much Christmas Costs in Different Countries
Ireland
Ireland is in the first place. It is the country spending the most money on Christmas. The average budget for an Irish family is 943 Euro. Somewhere around 400 Euro is spent on Christmas gifts, but the rest is spent on food, entertainment, and most importantly, home decoration.
England
The British people spend about 660 Euro: 380 Euro on gifts, 180 Euro on food, and the rest is tickets either for a train or for a plane, since the British rarely celebrate Christmas at home, trying to break out on holidays and change the setting.
Sweden
Swedes usually spend 648 Euros per average family. About half of the money is spent on gifts, which are usually received by children. Also, quite a lot of Swedes spend on food, since they rarely go somewhere on Christmas preferring to stay at home and spend the whole weekend in front of the TV and at the table with family and friends.
The USA
Their budget is about 625 Euro or $800, although every third family admits they usually spend more than $1000. It is not strange, because a tree alone costs about $75 and about $200 needs to be spent on decorations. Christmas in America is sometimes celebrated brighter than their own birthday.
France
The locals are ready to spend nearly 600 Euro to celebrate the main holiday of Europe. But, since the French, like the British people, like to spend their Christmas holidays not at home, but somewhere in the countryside or at a ski resort, the amount can double or even triple.
Image Source: BigStock.com (licensed)
Related Categories:
Holiday
,
Reviews