With the development of technology and the advent of the Internet, trading has reached a new level. Each investor can now choose a broker from any country if his terms of cooperation are more favorable than what brokers from your country offer. However, it can be difficult for beginners to determine whether the chosen broker is really reliable. So it is always important to research and investigate all available data before cooperation to avoid a Forex scam.
Where To Start? – Broker Regulation
In terms of regulation, it's the first thing to pay attention to. The main goals of any good regulator are:
Registration of financial companies, issuance, and revocation of licenses;
Detection of violations, detection of fraudsters, conducting their own investigations, bringing to justice, and sending the case to court;
Achieving maximum transparency of the trading process;
Monitoring of operational reporting of controlled organizations and much more.
As you can see, regulated investment companies are subject to strict limitations, and even obtaining a license, and regulatory status can sometimes be challenging. Regulation of such top financial authorities as FCA, BaFin, ASIC, MiFID, and others guarantees trading security.
Available Leverages
Leverage is another important aspect of trading that requires careful analysis. Briefly, lavage allows the traders to use much more funds than they have at their disposal. This means that the broker provides the depositor with a loan that he can use to open positions. However, you should remember that here you can succeed or lose not only your money but also the broker's capital. Beginners should avoid too high available leverage rates. In addition, an offer significantly exceeding objectively adequate amounts is another red flag indicating the unreliability of the broker.
Demo Account
Companies offering a demo account or trial period for using Internet-based trading platforms are great options for beginners. Fine demo accounts usually offer an unlimited virtual deposit with all the necessary trading tools and don't require real money. The availability of free demo accounts usually indicates that the broker is interested not in laundering money but in providing clients with an environment to gain knowledge and experience.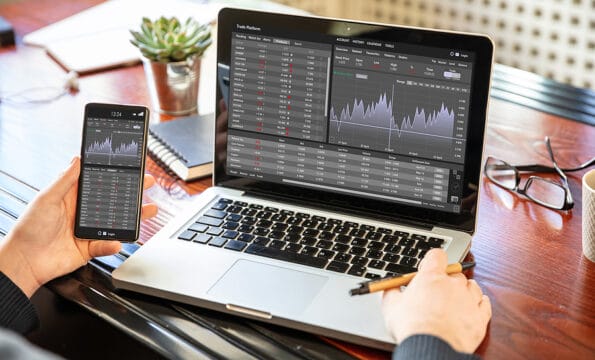 Terms and Conditions
Neglecting of exploring the terms and conditions of cooperation is one of the main reasons for the failure of traders. We are used to skipping all the community rules, requirements, warnings, and other "annoying" long reads in everyday life. We just press the "I agree" button and continue our internet surfing. However, this doesn't work in the case of investment companies. Check all the details of agreements and contracts before cooperating because sometimes they contain extremely interesting clauses that can lead you to bankruptcy.
Unlicensed and Unregulated Brokers – Avoid Them
So, you already know that only regulated and licensed brokers are worth believing. However, it often happens that non-registered foreign organizations manipulate truthful data. For example, the company did receive an FCA or ASIC license, but it is already expired. Or the company has not been audited for more than a few years. To avoid running into such insolent scammers, always check the organization's current status on the official websites of the regulators. Besides, not every broker regulation is worth trusting – avoid organizations regulated by financial authorities from offshore zones. Obviously, experienced traders can get involved in any adventure, but beginners must follow only one law – trust regulators with a high level of trader confidence.
Scammed by an Online Broker?
If you have any complaints about a broker or investment company that violated any terms and conditions, you can always feel safe thanks to funds recovery companies such as Global Fraud Protection. If you have any withdrawal issues or your premium account has been blocked, please don't feel embarrassed about reporting a scam! Scams can happen to anyone! Contact the team of experienced lawyers and cyber security experts from Global Fraud Protection, and they will do their best to help you regain financial independence.
Image Source: BigStockPhoto.com (Licensed)
Related Categories:
Invest
,
Reviews