There are two types of view – the static and the dynamic. Stare at a mountain and it won't move before you but you will appreciate the majestic beauty of something seemingly immovable. Watch a storm at sea and before you is a dynamic view that moves second by second, minute by minute and hour in its mesmeric torrent. This is the beauty of kinetic wind sculptures – constant movement.
Why Do We Love Movement?
Though riding on a bucking horse, angry and determined to remove you from its back is less than comforting, other types of movement can be entrancing. We've already mentioned the sea from a firm and comfortable coastal viewpoint – we get a feeling of nature in action.
World famous kinetic sculpture artist Ralfonso said to Wide Walls, "Mother Nature, being the best artist of all, inspires me to pursue the form and the movement that I see around me, whether it's grass, whether it's a tree, whether it's a leaf from of tree…"
In short, wind sculpture seems to reflect the actions of nature itself in its actions. Another wind sculpture builder, Washington State based Anthony Howe said to My Modern Met, "It aims to alter one's experience of time and space when witnessed."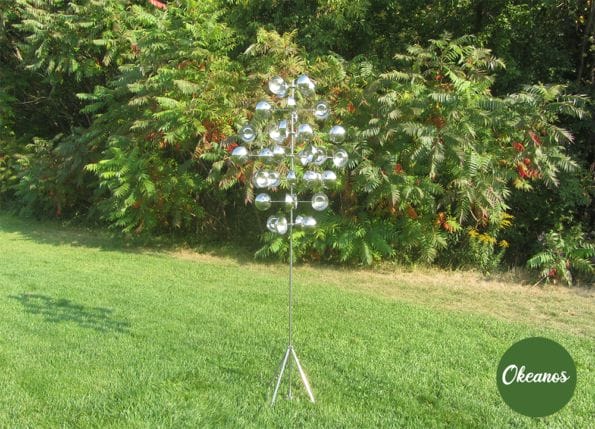 So it is when you look at a sculpture in motion in the wind. All artists seek to make the viewer pause a moment to take it in, and to become absorbed in the motion and flow of what you see. This moment might be similar to watching a boat bobbing on a stormy sea, perhaps as the viewer wonders how the crew aboard see and feel the world from aboard.
Making Your Own Space Dynamic
Like a mountain, your garden is likely only to change season by season. In winter, spring, summer and fall you will see it different but this is more of a static view than a dynamic one. Could you change that?
Howe's mesmerizing sculptures start at a mind boggling $45,000 a pop! He has been known to sell them for far more too. This isn't to say you could call him a joker with the work he does – in every piece you can see the many hours of painstaking labor that has gone into its creation and design.
But What If You Don't Have $45,000? You don't need the sort of money to spare that would buy you a comfortably appointed Tesla Model 3 to buy a wind sculpture these days! If you visit Ilvento Sculptures you will see a range of wind sculptures that cost less than $1000 yet will still be an interesting fixture in your garden. These can be mounted on the ground with pins or for extra dynamism, can be hung from a tree for you to see it move in multiple planes.
Could you add that extra dynamism to your home's garden with an Ilvento Sculpture? Head over to their website to have a look and see for yourself!
What makes Ilvento Wind Sculptures unique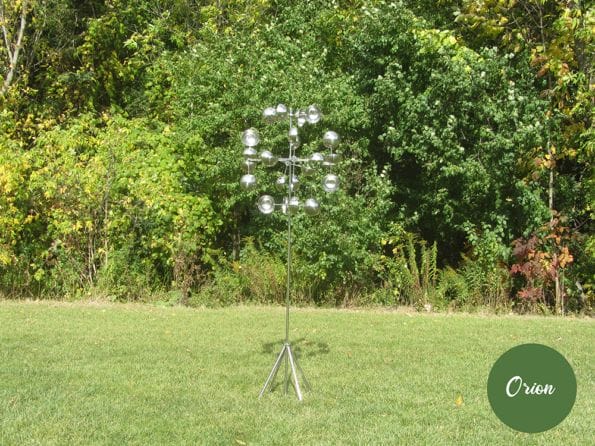 Delicately designed and balanced, each sculpture spins with the slightest breeze. You will love the fluidity of its mesmerizing movements. Il Vento consists of several layers and all layers can rotate in a different direction. You can design a motion pattern for the sculpture in whatever way you choose.
The wind sculpture comes in a pre-assembled state with detailed installation instructions. You'll only need between 20 – 30 minutes to assemble it before you can reap its gentle hypnotic effects.
IVento Sculptures has designed dozens of wind sculptures in various sizes, shapes, and motion patterns to cater to any taste and that bring the magical dance of the wind into your garden or backyard.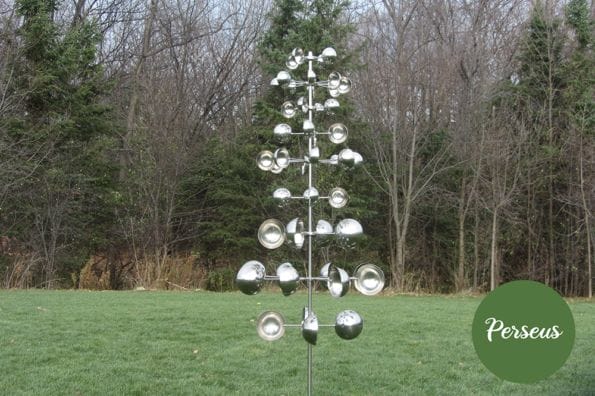 Ilvento wind sculptures are made from high-quality stainless steel for durability. They will rotate and reflect the sunlight in your garden or backyard for years.

Set it up in your backyard or garden or hang it up on a tree, a roof, or a cornice. Slow down, de-stress, and enjoy your leisure time outdoors as you watch the enthralling movements of a relaxing wind sculpture.
Image Source: https://www.ilventosculptures.com/
Related Categories:
Art & Design
,
Reviews