Mirrors are common in bedrooms and bathrooms, but they can be used in many different places and different ways at homes. A good quality mirror can dramatically change the sense of space if used creatively. Yes, mirrors are meant for checking appearance primarily; but they can do much more than that. Can expand cramped corners and amazingly transform spaces in your home. 
7 ways mirrors can do wonders
By placing mirrors in the right places in your home, you can bring a lot of beauty and charm to your home. Mirrors can capture light and project it where needed effectively. Understand how mirrors catch and reflect light to use them effectively. Mirrors can be used in several ways,

look for bathroom mirrors

or outdoor mirrors that add to the beauty of any space. Here are 7 ways mirrors can be used creatively to enhance any corner of your home. 
Spacious Feeling
If you want a room to appear spacious, then use a mirrored wall. Both a full, large mirror wall or mirror tiles work well. It can also add a touch of luxury to any space. Choose a design that matches the décor of the home.

Big mirrors

with elegant frames can also be just placed against a wall. This way, you can move them easily when you want to change the style. 
Wardrobe or Closet Mirrors
Another common way to use mirrors is to use them as wardrobe panels. This is practical and adds elegance as well. Homeowners love this because it can save space and is super functional too. This is especially useful in smaller wardrobes or even bedrooms with an open plan. The dressing area can be transformed with full-length mirrors that hide untidy shelves and show you how you look after you dress up.
Brighten the Stairway 
Stairway walls are generally dull, and mirrors can add brightness and a cool vibe to this often-neglected space. If you want to focus on the stairway or provide a way for people to check themselves out while going up or down, mirrors are the way to go. It can bring the feeling of old-world romance and charm if you light up the stairway perfectly.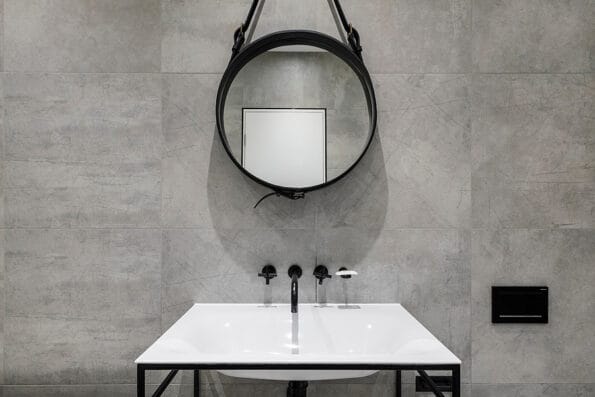 review
Statement Mirrors
Mirrors make for a great statement piece anywhere they are used, be it in the sitting room or the bathroom. Using mirrors with the right frames can attract attention. There are different ways you can light a mirror to make it more attractive. Bathroom mirrors that have ring lights or vanity lights are great. These are perfect for applying makeup and quick touches. The lighting must be good in the bathrooms for the mirrors to work. Moreover, the quality of the mirror is important, or the moisture can distort the surface and make it useless. 
Create Balance
By adding a mirror to any room, you can increase the room's appeal and make it more pleasant. Remember to place it facing an attractive feature and not some clutter. Mirrors represent water and are used in feng shui to create balance in a space. Placing a mirror in the entryway or over the fireplace is always a good idea because it has a welcoming vibe. 
Hide Imperfections
One thing that mirrors do is that they can hide the imperfections, if any, in any space. Mirrors don't have to be rectangular or round all the time. That can be boring and may not go with the décor. You can choose the shape and style of the mirror and give wings to your creativity. In fact, an unusually shaped mirror can hide imperfection and make it look more attractive. 
Mirrors to the Rescue
All homes have awkward corners which no one knows what to do with. It might be difficult to place furniture or use artwork to spruce up the space, but mirrors can never go wrong. It will keep the awkward corner looking good, neither too bare nor over busy. Mirrors are meant for interiors and can also be used as effectively outdoors. Your garden or entryway to your home can be made more beautiful with mirrors. 
Conclusion
Mirrors can add great visual interest with a lot of charm. If a space needs some character and elegance, it is easy to do it with mirrors. It would be best if you did not worry about your personal style or preference because there are many beautiful mirrors to choose from. What better way to add light and brightness to any space than adding mirrors!  
Image Source: BigStockPhoto.com (Licensed)
Related Categories:
Home
,
Reviews