When those long winter nights take hold, comfort is the order of the day. Your bedroom should be a relaxing and warm place to spend time, helping ease your worries and making it as easy as possible to fall asleep.
Warm golden tones that soothe your soul, fairy lights that mimic the stars, and luxurious bedding that feels of-so-soft against your skin are a few simple tricks. But what if you want to go even further?  
This article looks at dreamy bedroom trends for winter nights, helping you transform your bedroom in unique ways.
Let's jump in!
Our favourite bedroom idea is a star lamp projector, which plugs into a regular socket and projects the actual constellations of the stars you see at night.
Star lamp projectors cost between £40 and £100 on average, and you can select from several lighting colours by remote control, giving you customisable mood lighting unlike any other.
By enveloping your bedroom with projected stars, you will feel like you are floating in space when lying on your bed. It doesn't get any dreamier than that!
Dimmable fairy lights deliver customisable mood lighting on a budget. With 5m of fairy lights and a pack of fifty wall hooks, you can cover your bedroom in dreamy fairy lights that give it a mystical, fairy tale vibe.
You can hang fairy lights on walls and ceilings and wrap them around the furniture to give every area of your bedroom the dreamy treatment.
For even more customisation, get multi-colour fairy lights so you can hunker down at night with any colour that takes your fancy.
Velvet beds are perfect for winter nights because they are soft and warm to the touch, giving you something lovely to sit up against.
Another fantastic thing about velvet beds (and fabric beds in general) is that you can get them with drawers or an ottoman base, giving you lots of storage. This is incredibly beneficial if you have a small bedroom or no airing cupboard.
Check out our range of divan beds and ottoman beds for ideas.
Warm up with artificial fire
There's nothing more warming than a fire, but your bedroom probably doesn't have a good fireplace. In that case, you can introduce artificial fire with an electric plug-in fire, which will blow warm air into your bedroom.
Electric fires simulate flames with light and coals but don't produce any fire. This makes them a safe option for bedrooms.
Best of all, you can buy a 2kW electric stove for around £80, and it will only cost about £3 per week to run for three hours per night.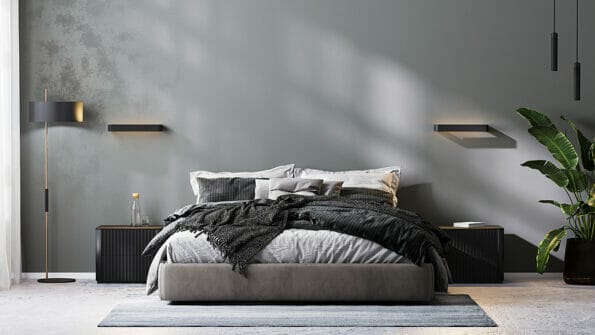 Luxurious textiles and fabrics
The things you see and touch in your bedroom play a critical role in comfort, especially during winter.
A knitted blanket's feel and look can evoke a sense of warmth, while cotton bedding has a warmer feel than polyester or silk.
Look for ways to introduce luxurious textiles and fabrics into your bedroom. Here are a few ideas based on what works for us:
Fabric bed headboard

Knitted throws

Egyptian cotton bedding

Fluffy rugs

Thick weave curtains
Also, don't forget to throw on your chunky dressing gown!
Embrace festivity with warming scents
While you might not get your Christmas tree out until December, you can enjoy festive scents like cinnamon, pine, clove, and mulled wine in your bedroom.
Scented candles are good but not the best. Get yourself an electric oil diffuser and several bottles of your favourite scented oils for a powerful scent.
Mulled wine is our favourite festive scent, cinnamon is a close second, and gingerbread is a top choice if you have a sweet tooth.
Image Source: BigStockPhoto.com (Licensed)
Related Categories:
Home
,
Reviews