When it comes to finding the best playground equipment for your school, it isn't simply a case of finding equipment that suits your budget. While budget is of course important, there are other factors to consider with the most important one being whether or not the equipment in hand actually helps with a child's development, allowing them to truly express themselves and let off steam.
School isn't solely about lessons and classroom time. It's also very much about break times, playing with friends and having huge amounts of fun along the way. With the best playground equipment for schools in your setting, it's made a lot easier for little ones to really have the breaks they need from classrooms and let loose.
Playground equipment comes in a range of sizes, made for a variety of abilities and ages. Today we're looking at some of the best pieces out there and just what makes them the perfect choice for your educational setting.
Leading Suppliers Of Quality Playground Equipment
To find the best playground equipment, we went to one of the UK's leading suppliers, Sovereign Play. Here's a rundown of the best pieces for any school playground.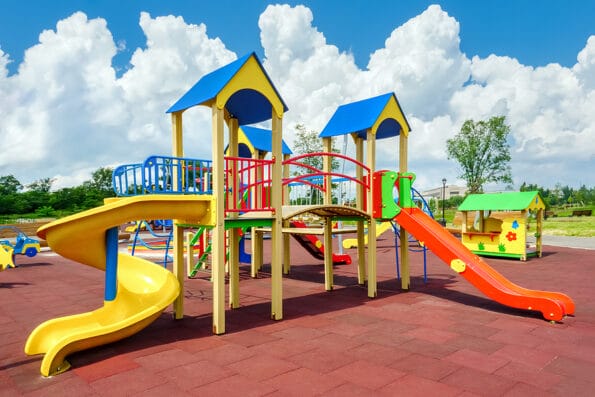 Climbing Frame
Climbing frames are a fantastic addition to any school playground as they not only provide an adventurous activity for young ones during break times but they also help develop a child's physical ability. From strength and balance to coordination and motor skills; climbing frames allow children to push themselves in a safe environment, using their imagination. The Sovereign Play Climbing frames come in a range of sizes too, benefiting any school playground regardless of size and budget.
Adventure Towers
Adventure towers are another great addition to a school playground, providing raised platforms for children to run and climb over. Adventure playground towers can really push little one's and their imagination, not only developing them physically but mentally too, as they learn to share their space with other children and overcome different obstacles. Available for a range of ages, it's best to seek advice when purchasing an adventure tower as you may find one style more beneficial for your school's children.
Playground Pirate Ships
Playground pirate ships could be considered just another adventure tower however these types of structures offer a far more specific type of play and they're already manufactured to appear as a particular object. This gives children a head start in their imaginative play, setting the scene for little ones to create their own world – and share it with others. From socialisation to strength and balance; the pirate ship is an incredible developmental aid, helping children learn through play.
Contact Sovereign Play Today
If you'd like more information on outdoor play structures, we recommend contacting Sovereign Play for more information. As one of the UK's leading manufacturers and suppliers of quality playground equipment, you can rest assured all equipment is made to help with not only the development of children but also to meet the necessary safety standards. For more information, call today on 01702 804 200.
Image Source: BigStockPhoto.com (Licensed)
Related Categories:
Excercise
,
Reviews