Halong Bay is one of the most famous tourist destinations in Vietnam. In fact, people visit Vietnam from all over the world in order to visit and have a peaceful and relaxing time at the Halong Bay. However, cruises are the best way to make most out of your experience at Halong Bay.
Cruises are not only ideal for travelling and taking you to that island but also for amazing accommodation, activities on the tours and spending the night at the sea. Here are some of the affordable and best Halong Bay cruise recommendations.
Mon Cheri Cruise:
Mon Cheri Cruise guarantees to give you the five star experience and service onboard. There are two Mon Cheri cruises with 18 and 25 cabins respectively. These cruises are recently built, which means that their features and interior are modern and lavish. It also means that there is no technical maintenance required in the cruise as it is recently built. A good thing about this cruise is that each cabin is attached with its own private balcony, so you can have a relaxing time in front of a great view, just from your spacious room only.
The best thing about this cruise is that it is associated with the Blue Dragon's Children's Foundation, whose aim is to support street children. Therefore, if you choose this cruise, you are also playing part in supporting and making street children's lives better and play your part in a very good cause.
In Halong Bay, this is the only cruise to serve Halal food, made in a totally Halal environment. It is also certified by the Halal Vietnam Association. Therefore, this cruise is ideal for people coming from the Middle East and South Asia.
Paloma Cruise:
Paloma Cruise was constructed in 2010 with the latest shipbuilding technology. The construction included a drainage tank and hull shell, which means that the ship is entirely safe. The cruise has an amazing design and a huge deck with deckchairs. So you can enjoy the calm sea, beautiful view and relax all by yourself. It is a four star cruise and promises to satisfy every customer with a peaceful and relaxing experience.
Each cabin has large windows so you can look at the view, which is always worth a glimpse. In total, the cruise has 18 cabins; each with its own standardized essentials.
As long as the route is concerned, the route is designed by experts who ensure that the passengers get to visit and experience all the best locations of Halong Bay. The passengers will also be allowed to spend time at each important spot.
Therefore, you can spend time your way, and have probably the best time of your life and make amazing memories with your loved ones.
Peony Cruise:
Peony Cruise has a lot of poetry and symbolism around it. The most common color found in the cruise is red, which symbolizes honor and wealth. Therefore, it also promises to give all its passengers a royal experience. The cruise is also influenced by the peony flower, which is a very common flower in the Eastern tradition.
It is a large cruise and has about 24 cabins. Each cabin has its own private balcony and bathtub. You can witness the exclusive and one of the most mesmerizing views in the world from the balcony. The royal essence is present everywhere on the cruise, which includes the reception area, spa, restaurant and the cabins itself. The whole cruise is built meeting the standards of the Western Standards for the Highest Quality. Therefore, passengers on this cruise should not worry when it comes to quality and only focus on having a great time and amazing experience.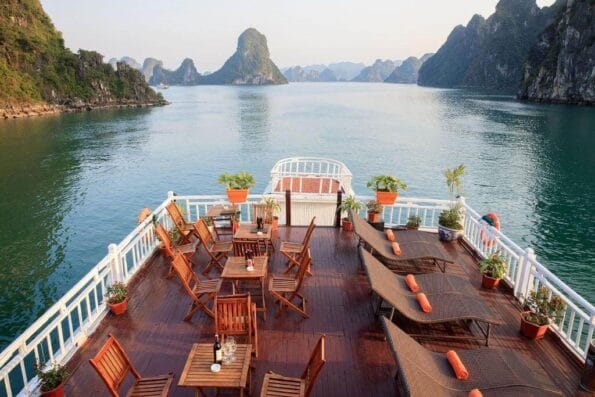 Era Cruises:
Era Cruise is famous and has high ratings for its amazing service and friendly staff. This satisfies half of what you want when you have good service on a tour. A very good thing about this ship is that all latest safety features are installed in this ship, so you can sense a feel of security when you step onboard.
The interior of the ship is designed with passion and gives passengers the sense of Vietnam. The cruise is extremely commendable when it comes to activities available and the dining service and taste.
Each cabin has long, ceiling-to-floor windows. The cruise also has big sun terraces. These help the passengers to witness a great breathtaking view. The cabins also have its showers and Jacuzzi, which enhance the pleasure of being on the cruise. Moreover, it is one of the first cruise to have medical centers. Therefore, if you feel sea sick or unusual about yourself, there is no need to worry.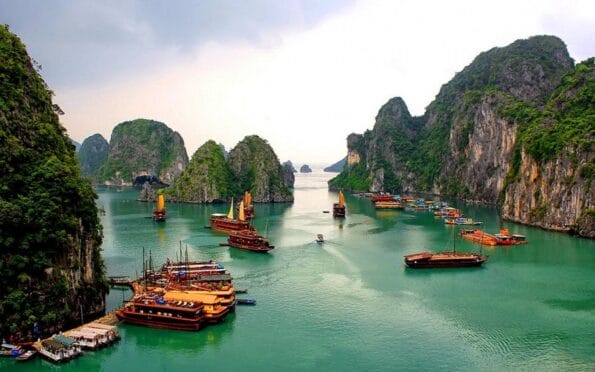 If you want to have the ultimate experience of Halong Bay, you must visit our website to get the best Halong Bay cruise recommendations. This is because a good cruise is what you need for a supreme experience of Halong Bay. Therefore, choose a suitable cruise for yourself, within your budget and pack your bags.
Related Categories:
Travel
,
Reviews