Across the globe, sports attract huge fanbases and provide everyday people with an exciting outlet for action. Whether or not the average person can run fast or catch a ball, they can always follow an athlete or team that can.
In Europe, Africa, and South America, football (or soccer) dominates the public's attention. In North America, sports like American football and hockey are celebrated. Meanwhile, the American past time of baseball has made it big in Japan and South Korea.
Regardless of the sport, popular leagues and teams provide a sense of community. By banding together to cheer on the favorite or the underdog, sports fans relieve themselves of daily stresses and insert themselves into an exciting and unpredictable world of athleticism.
Those who don't follow any league can often feel left out when it's time for a big tournament, like UEFA's Champions League or the NCAAB's March Madness or even the Olympics.
Still, there are plenty of opportunities to get in on the action without ever stepping foot on a field. Those looking to try something new this fall can always add 'getting into sports' to their list.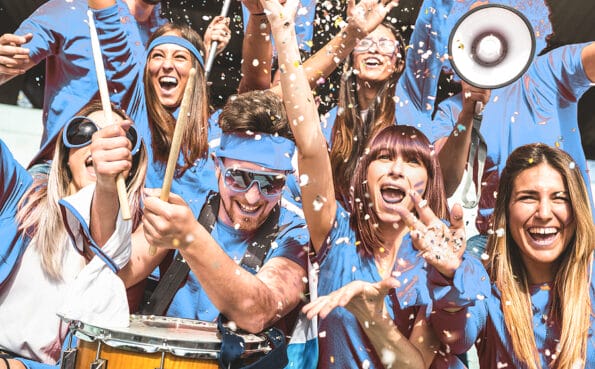 Find A Squad
Whether it's competitive ping pong, professional skydiving, or European club football, finding a sport of interest should be instinctual. Once you've found the sport that piques your interest, all that's left to do is find a particular team.
The rules of fandom can be long and a bit involved, but there are a few core rules for those who choose to officially back a team. The first general rule for fandom is to stick to where you're from. That means finding a local team, either where you grew up or where you live now.
For those struggling to choose, social media pages often offer a unique and personable insight into a team. Real Madrid of Spain's La Liga has over 222 million followers; the LA Lakers of the US's NBA have over 41 million followers; and the Kolkata Knight Riders of India's IPL league has over 22 million.
Learn the Culture
Another major rule of sports fandom is to never, ever jump ship. This means that no matter how poorly your team performs for a season or even a decade, a true fan never gives up.
This past year, the NFL's Kansas City Chiefs won their first Super Bowl championship title in half a century. In England's Premier League, Liverpool won the champion title for the first time in 20 years. In both cases, fans for either team refused to give up hope. This makes a hard-fought win even more meaningful.
Aside from backing a team no matter their record, it's also important to learn the team's culture. Europe's various football clubs are notorious for their stirring chants, which newcomers will need to memorize. Other leagues require fans to keep track of extensive, involved rivalries. Be sure to take notes.
Back & Manage Your Team
Once you're comfortable backing your team and sizing them up against rivals, diving into sports betting and fantasy leagues are some of the most exciting ways to follow sports.
More and more states are regulating their own sports betting industry in the US, which means that trusted sites are offering expert betting analysis on major leagues. Fans can back their team while learning more about stats and league dynamics.  There are lot of options to look at and new ones are opening up regularly (for example, sports betting is Illinois is now legal).
This is a great way to apply knowledge about the league and team stats as new fans become more comfortable (and competitive) in their league. While the size of the wager doesn't matter, it provides fans with a unique opportunity to test their analytical abilities.
Similarly, fantasy leagues offer fans a chance to directly manage a (virtual) team and compete with other enthusiasts. Fantasy leagues are easy to find and offer various degrees of difficulty (based on rules of the fantasy league).
Whether trying your hand through a popular fantasy league app or going old school by forming a manual league between friends, fans will have plenty of learned strategies to apply here.
Image Source: BigStockPhoto.com (Licensed)
Related Categories:
Sports
,
Reviews