When it comes to shopping for men's pants, you should consider buying chino pants. Chino men's pants have gained a lot of popularity in recent years, and more and more men are now buying them. They are everywhere nowadays, thanks to the comfort and versatility they offer.
If you are looking for a smart-casual outfit, you must think about adding chino pants to your wardrobe. Chino pants are extremely practical that can enhance your overall style while still making you feel comfortable. A special type of cotton twill fabric is used to make chinos, which offer the next level of comfort while you are wearing them. Not only this, it can even help you stay relaxed in all sorts of situations. If you are looking for a smart-casual outfit, you must think about adding chino pants to your wardrobe. There are a lot of custom-made chinos online, so make sure to choose the ones of good quality and comfort.
If you are wondering why you should consider choosing chino men's pants, this post is for you. Here are the top advantages of buying and wearing chino pants that make them unique.
Advantage 1. Chinos are very soft and comfortable
One of the biggest advantages of wearing chino pants is that they feel extremely soft on the skin. The cotton twill fabric of chinos does not irritate the skin of the wearer. Not only this, it does not cause any sort of discomfort when you are wearing them.
Chino pants are very soft and gentle on your skin, which makes them provide a superior level of comfort. We can all agree that we all look for pieces of clothing that are comfortable and can be worn for different occasions and still feel comfortable. Chinos are the perfect option for every man who is looking for that comfort in all situations. This brings us to our next point, which is versatility.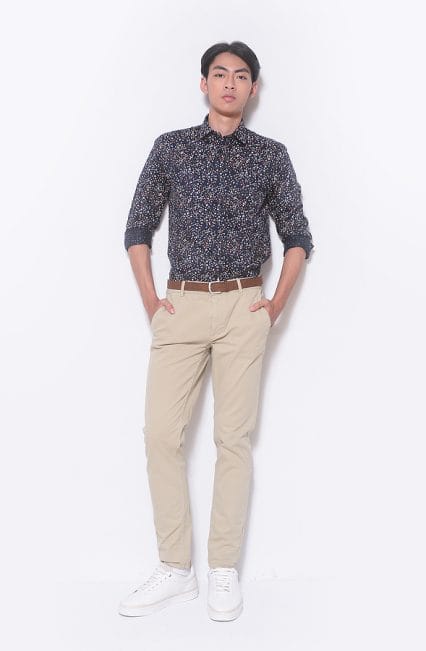 Advantage 2. Chinos are very versatile
Another great advantage of chino pants is their versatility. As I mentioned in the previous point, you can wear chinos for different occasions and feel comfortable in them. Chinos offer unique versatility, which means you can wear them in different outfits.
There are a lot of styles of pants for men available on the market. But hardly any style of men's pants comes close to the versatility chinos can offer. You can wear chino pants for both casual and formal occasions. Whether you are going out with your friends for a casual hangout or want to get ready for a fancy date night, chinos can be your best pick.
Advantage 3. Chinos have a variety of color options
Another factor that gives chinos an advantage is that they are available in a variety of colors. If you want to choose a classic color for your chinos, you can buy a pair of khaki chino pants. But if you want to add a little spark, you can choose red, green, or blue chino pants.
With chinos, you can choose from a wide range of colors and designs. That way, you can ditch the basic colors, such as brown or black, and find something unique for yourself.
Chino pants are a great addition to your collection. The above-mentioned advantages explain why these pants have become a staple in every guy's wardrobe.
Image Source: BigStockPhoto.com (Licensed)
Related Categories:
Fashion & Gear
,
Reviews