Byline: Becky Moore
A broad spectrum of people, from singers to visual artists, have made significant money through buying and selling NFTs, which have grown to be a viral phenomenon across businesses and professions.
What is an NFT?
A non-fungible token is a distinct digital identification stored in a blockchain and used to verify ownership and authenticity. It cannot be duplicated, replaced, or divided.
NFTs cannot be bought or exchanged for equivalent amounts like cryptocurrencies can. This contrasts with fungible tokens, like cryptocurrencies, which are interchangeable and can thus be used as a medium for business transactions. This is why NFTs remain strong, despite cryptocurrencies taking a plummet. 
The ERC-721 standard was the precursor to NFTs. The ERC-721 smart contract standard, created by some of the same individuals who created the ERC-20 smart contract, outlines the minimal interface—ownership information, security, and metadata—needed for the trading and distributing of gaming tokens. The ERC-1155 standard expands on the idea by batching many non-fungible token types into a single contract and lowering the transaction and storage costs necessary for NFTs.
NFTs have a variety of potential applications. For instance, this Biticodes review reckons that they are the perfect means of digitally representing tangible assets like real estate and art. NFTs, based on blockchains, can also be used for identity management or to cut out intermediaries and link artists with audiences. NFTs can eliminate intermediaries, streamline transactions, and open up new markets.
Are NFTs Currently Worth It?
The market for NFTs today is primarily driven by collectables like digital art, sports cards, and rarities. NBA Top Shot, a place to gather non-fungible tokenised NBA moments in digital card form, is arguably the most touted area. These cards have sold for millions of dollars in recent years.
Community, culture, and utility are the pillars on which the value of NFT collections is based. When evaluating NFT collections, the value may be found in several different aspects or in only one. The most well-known instances are also some of the best ones. The Bored Ape Yacht Club is the best example of an active community. Generative art (Artblocks) and CryptoPunks have advanced NFTs in the cultural arena. The utility of gaming NFTs is an excellent illustration of how innovation may occur in the industry.
Because NFT developers know that providing clients with value has always been an essential marketing component, they have begun designing more exciting utilities. One outstanding instance is the sale of NFT tickets. Customers can replace their tickets in this manner without interacting with customer support.
NFTs are a Prime Asset in the Virtual World
Some venture investors think the NFT market will not only survive and expand but become more significant. This is because they anticipate a rise in the virtualisation of our life in the future. We might soon buy stocks and natural land in addition to digital images, films, and game materials. This will essentially result in a metaverse where everything is converted into an NFT token that can be purchased using cryptocurrencies. Uncertainty exists around how this will interact with our physical existence in the "real world," yet the revolution is already in motion.
NFTs and the Gaming Industry
Many theories have been proposed regarding how the video gaming industry would react to NFTs. In blockchain games like Ember Sword, some businesses already provide digital assets, but this hasn't yet caught on with the larger gaming community. Some experts are speculating on what may happen if this were to be implemented. Digital assets like NFTs, which provide gamers with the opportunity to purchase distinctive components for their games, might fit well into the ever-growing gaming market. However, for some people, this can blur the distinction between playing for leisure and playing for money.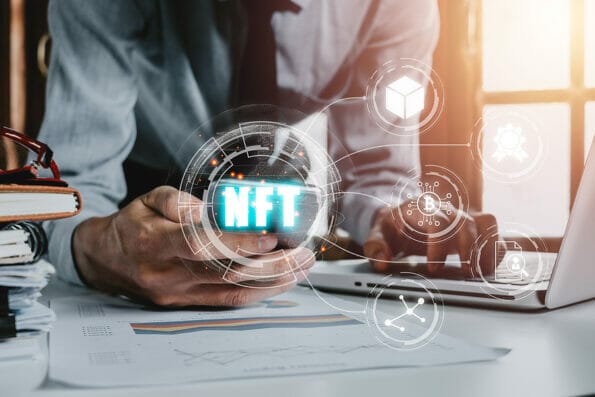 Interoperability in NFTs is Essential
NFTs are the ideal tool since they can foster community and offer online and offline benefits. The difficulty of using NFTs and metaverses will increase as they grow, and interoperability between metaverses will be just as significant as their practical applications.
Interoperability is essential to the metaverse's success since it replicates the real world. The merger of borderless virtual worlds known as the "metaverse" intends to foster fluid socio-cultural connections outside the confines of the real world. With a broader audience, the metaverse will provide a greater diversity of information, and interoperability will increase utility possibilities, resulting in a seamless user experience and more value for users.
Space for Ease of Adoption
The opportunity presented by Web3 allows us to improve UX while also reinventing and reimagining the problematic elements of Web2.0. Because blockchain operates in a decentralised and trustworthy environment, the security of current Web3 technologies is compromised. Users have exclusive control over their data and money in the event of hacks or assaults, and there are no middlemen to rely on. In Web3, security is given top importance and doesn't impede progress.
The truth is that as adoption becomes simpler for more individuals, the NFT market will strengthen and expand. Therefore, by continual education from providers and mainstream media, we need to make the NFT journey less complicated and more recognisable.
The NFT market may be unpredictable, but there is opportunity there. Because of volatility, investors might design buy-low, sell-high strategies that could result in enormous gains. A turbulent market also offers the ideal chance to separate the most substantial projects and holders from the weakest. These digital worlds' building blocks will be NFTs, and encoded utilities will provide doors to experiences like VIP events or exclusive discounts. The economic landscape is shifting as a result of digital transformation and the use of blockchain technology. NFTs, blockchains, and cryptocurrencies are now the focus of more people than ever before, but they will grow in popularity.
Image Source: BigStockPhoto.com (Licensed)
Related Categories:
Cryptocurrency
,
Reviews