Cycling is not limited to the two-wheel option. Grown-ups can get a tricycle and benefit from healthy cardio exercise. The models fall into three categories, but picking the right device should not be mind-boggling – the differences are subtle. Here are the basics of vehicle selection. 
An adult tricycle may be upright, recumbent, or semi-recumbent (adaptive). All three are excellent for cardio training. The first type, however, keeps riders higher from the surface and less stretched out. As a consequence, riding feels more intense since there is less space. This option, however, is best in terms of hand positioning, as well as comfort for your back and bottom.
Choosing a Seat
Here, you will be faced with the saddle-sling dilemma. The former caters to upright riders who prefer the comfort of wider seats and are used to planting their feet on the ground firmly. The other types usually come with either sling nylon parts or padded platform shapes giving ample back support. If you are afraid of imbalance, you will appreciate these models due to their proximity to the ground. 
Choosing Handlebars
These parts may be of the conventional, chopper, or loop type. The first curved shape is the most common for upright models. It is best for riders who move more freely, and whose torso is relatively strong.
Similarly, chopper handlebars, common for both upright and recumbent vehicles alike, demand a strong torso and complete use of hands, arms, and shoulders. The loop alternative is best suited to riders with weak hands and shaky arms. It allows you to steer the device with any section of the rectangular loop. 
Understanding Weight Limits
The maximum weight for a particular model is defined by the company that produced it, so be sure to check the description. For upright types, this is between 200 and 350 lbs. The other two options allow up to 400 lbs. However, there is also the so-called bariatric type. This caters to riders weighing up to 100 lbs more. 
Braking
The pedal and coaster types are appropriate for riders afflicted with arthritis or weakness in hands. Hand brakes, on the other hand, are tailored to those unable to use their legs.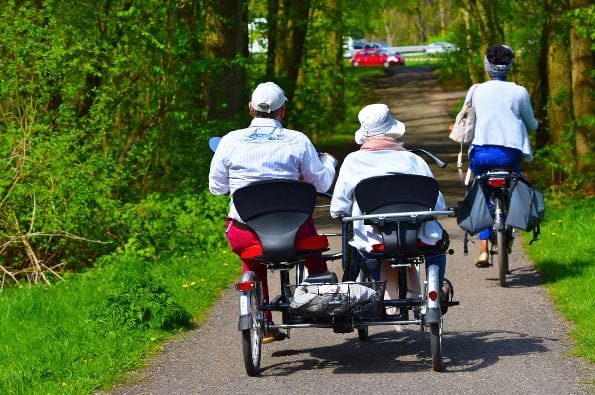 Best Brands
Producers also provide accessories and customization. Rifton and Asa are just two of the most trustworthy brands today. Their products share many features, ensuring pleasant and safe cycling trips for grown-ups. Hence, you will find a tricycle meeting all your demands.
Related Categories:
Excercise
,
Health